China Internal Gear slewing bearing Series 02 manufacturersInternal Gear slewing bearing Series 02 Made in China
1. Product Introduction of Internal Gear slewing bearing Series 02
Double volleyball slewing bearing is a new type of mechanical part, it has inner and outer ring, rolling body, etc., is a large bearing that can bear comprehensive load, can bear large axial, radial load and overturning moment at the same time.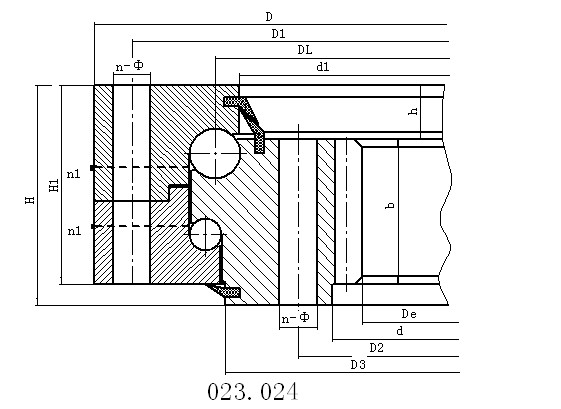 2. Product Feature of Internal Gear slewing bearing Series 02
The double volleyball slewing bearing has three seat rings. The steel balls and isolation blocks can be directly discharged into the upper and lower raceway. According to the force condition, the upper and lower two rows of steel balls with different diameters are arranged. This kind of open assembly is very convenient, the bearing Angle of upper and lower arcs raceway is 90°, which can bear great axial force and tipping moment. When the radial force is greater than 0.1 times the axial force, the raceway must be specially designed. The axial and radial dimensions of the double volleyball slewing bearing are large and the structure is tight. It is especially suitable for tower cranes, truck cranes and other loading and unloading machinery requiring medium diameter or above.
3. Product Parameter of Internal Gear slewing bearing Series 02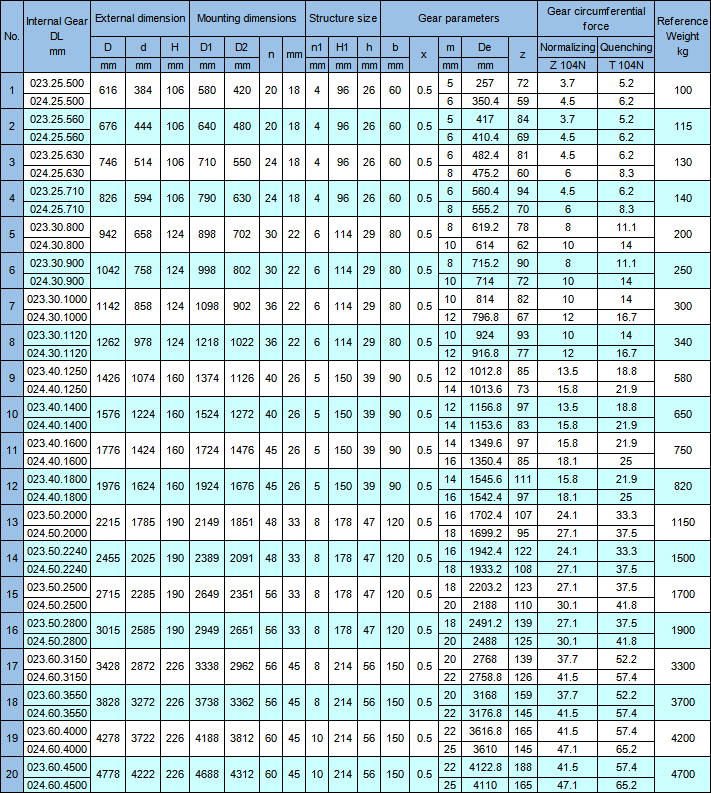 Note:
1). n1 is the number of lubricating oil holes, uniform distribution: oil cup M10×1 JB/T7940.1-JBT7940.2
2). installation hole N-DN1, N-DN2 can be changed to screw hole; The tooth width B can be changed to H-H.
3). The circumference force of the gear in the table is the maximum circumference force, and the rated circumference force is 1/2.
4). internal tooth repair coefficient 0.2.
4. Product Application of Internal Gear slewing bearing Series 02
Products are widely used in construction machinery, engineering machinery, port machinery, mining and metallurgical machinery, environmental protection testing machinery, wind power generation, medical equipment and military machinery and other industries.
5. Company Introduction of Internal Gear slewing bearing Series 02
Yantai Zhiyuan Machinery Co., Ltd. is committed to the production, sales, design and manufacture of various types of slewing bearings. Which is founded on November 13, 2019, the company currently has more than 40 employees, more than 10 management and technical personnel, and more than 100 sets of various production and processing equipments. At the beginning of 2021, relying on the original technological advantages of the old company, the company actively innovated and carried out technological reforms, We focus on the new generation of information technology industry, artificial intelligence, CNC machine tools and robots, aerospace equipment, marine engineering equipment, and high-tech ships, advanced rail transit equipment, energy-saving and new energy vehicles, power equipment, agricultural machinery equipment, new materials and biomedicine And the supporting development of high-performance medical equipment and other fields is close. Yantai Zhiyuan Machinery Co., Ltd. has been the manufacturer of Internal Gear slewing bearing Series 02 since its establishment. We comply with ISO 9001, ASME, CMAA, MSHA, NEC and OSHA standards. For External Gear slewing bearing Series 02,Slewing bearing, Slewing Ring, Slewing Ring Bearing, Non Gear Slewing Bearing, Internal Gear Slewing Bearing, External Gear slewing bearing, please contact us. Support wholesale customization, free samples, low prices, large quantities and more discounts. This is the latest product. Good quality, durable and made in China. If you want to know more about Internal Gear slewing bearing Series 02, you can send us an email and we will serve you wholeheartedly.
6.FAQ
1)Q: How long will it take to install the equipment?
A: Our product is an accessory, so there is no need to install it on site. Customers can install it after they buy it.
2)Q: What sales goals do you need to achieve to become your distributor?
A: 30000 dollars.
3)Q: Can I transfer the money to you and you pay to other suppliers?
A: Yes.
4)Q: Can I deliver goods from other suppliers to your factory? And then load it together?
A: Yes, but you need to declare to the other party.
5)Q: How do you arrange your Spring Festival holiday?
A: During the Spring Festival, our front-line workers will rest for 10 days, so the logistics can work normally.
6)Q: Can your equipment be installed in hot weather?
A: The product can be made suitable for a high temperature environment.
7)Q: Can your product be installed in cold weather?
A: The product can be made suitable for a low temperature environment.
8)Q: Do you have an office in Shanghai or Guangzhou?
A: No, we don't have any offices or branches anywhere.
9)Q: Could you send your staff over to install the equipment for us?
A: Our products belong to accessories, generally do not provide door-to-door service.
10)Q: Can I only buy some spare parts from you?
A: Yes.
11)Q: Will you attend the exhibition?
A: Yes.
12)Q: Can you deliver your equipment to the warehouse in Guangzhou?
A: Yes.
13)Q: How long will it take you to provide us with the design?
A: If the customer wants to customize the product, it can produce the drawing and production in a week.
14)Q: How do you pack equipment?
A: We ship our products in wooden cases.
15)Q: Can you design the equipment according to our size?
A: Yes, we can.
16)Q: How long has your company been making this kind of equipment?
A: It has 19 years.
17)Q: How many employees do you have in your factory?
A: About 40 people.
18)Q: How far is the hotel from your factory?
A: There is 20 minutes.
19)Q: How far is your factory from the airport?
A: About 1 hour.
20)Q: How long does it take to get to your factory from Guangzhou?
A: It takes three hours by plane.
21)Q: Where is your factory?
A: Zhaoyuan, Shandong Province.
22)Q: Do you provide spare parts free of charge?
A: No.
23)Q: Is OEM acceptable?
A: Yes.
24)Q: Do you provide samples? Free or charge?
A: No, we do have to charge for it.
25)Q: What are your payment terms?
A: Pay 50% in advance and the balance before delivery.
26)Q: What's your minimum quantity?
A: One.
27)Q: Are you a trading company or a manufacturer?
A: We are manufacturers.
28)Q: What is your lead time?
A: About 15 days for standard products and about 1 month for customized products.
29)Q: How many production lines are there in your factory?
A: We have 5.
Hot tag: Internal Gear slewing bearing Series 02, China, manufacturers, suppliers, factory, wholesale, buy, Customized, in stock, Bulk, Free Sample, brands, Made in China, cheap, discount, low price, buy discount, price, Price list, quotation, CE, fashion, newest, quality, advanced, durable, easy-maintainable, latest selling, 3 years warranty, classy, fancy
China Internal Gear slewing bearing manufacturersChina Internal Gear slewing bearing suppliers