China External Gear slewing bearing Series Q manufacturers
External Gear slewing bearing Series Q manufacturers
1. The Production of The External Gear slewing bearing Series Q
The single-row ball slewing bearing is a new type of mechanical parts, which consists of inner and outer rings, rolling elements, etc. It is a large bearing that can withstand comprehensive loads. It can bear large axial and radial loads and overturning moments at the same time.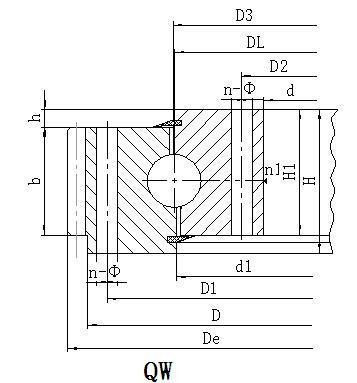 2. The Product Feature of The External Gear slewing bearing Series Q
The single-row four-point contact ball slewing bearing is composed of two races, with compact structure and light weight. The steel ball is in four-point contact with the arc raceway. Can bear axial force at the same time. Radial force and tipping moment, rotary conveyor, welding manipulator, small and medium cranes and excavators and other construction machinery can be selected.
Due to the need to transmit force, one of the ferrules of the slewing bearing is usually made with teeth. The heat treatment state of gears is generally normalized or quenched and tempered. The tooth surface can also be quenched according to the user's requirements, the quenching hardness is HRC50-60, and sufficient depth can be guaranteed.
3. The Product Parameter (Specification) of External Gear slewing bearing Series Q
1). n1 is the number of lubricating oil holes, evenly distributed: oil cup M10×1 JB/T7940.1-JB/T7940.2
2). The mounting hole n-Φ can be changed to a screw hole; the tooth width b can be changed to H-h.
3). The circular force of the gears in the table is the maximum circular force, and the rated circular force is taken as 1/2.
4. The Product Application of The External Gear slewing bearing Series Q
The products are widely used in construction machinery, engineering machinery, port machinery, mining and metallurgical machinery, environmental testing machinery, wind power generation, medical equipment and military machinery and other industries.
5. The Factory of Yantai Zhiyuan Machinery Co., Ltd.
Yantai Zhiyuan Machinery Co., Ltd. is committed to the production, sales, design and manufacture of various types of slewing bearings. Which is founded on November 13, 2019, the company currently has more than 40 employees, more than 10 management and technical personnel, and more than 100 sets of various production and processing equipments. At the beginning of 2021, relying on the original technological advantages of the old company, the company actively innovated and carried out technological reforms, We focus on the new generation of information technology industry, artificial intelligence, CNC machine tools and robots, aerospace equipment, marine engineering equipment, and high-tech ships, advanced rail transit equipment, energy-saving and new energy vehicles, power equipment, agricultural machinery equipment, new materials and biomedicine And the supporting development of high-performance medical equipment and other fields is close.
Yantai Zhiyuan Machinery Co., Ltd. is committed to External Gear slewing bearing Series Q craftsmanship and quality, delivering standard and customized External Gear slewing bearing Series Q on time and on budget, while exceeding the expectations of our domestic and international customers. Yantai Zhiyuan Machinery Co., Ltd. strives to demonstrate excellent quality in all the Slewing bearing, Slewing Ring, Slewing Ring Bearing, Non Gear Slewing Bearing, Internal Gear Slewing Bearing, External Gear slewing bearing and other products produced. Made in China brand, our labor cost is low, the product price is cheap, the quality is good, we support wholesale customization, we provide free samples, we also have sufficient inventory, we provide a Price list, so you can see at a glance, welcome to be our customer, wholeheartedly at your service.
6.FAQ
1)Q: How long will it take to install the equipment?
A: Our product is an accessory, so there is no need to install it on site. Customers can install it after they buy it.
2)Q: What sales goals do you need to achieve to become your distributor?
A: 30000 dollars.
3)Q: Can I transfer the money to you and you pay to other suppliers?
A: Yes.
4)Q: Can I deliver goods from other suppliers to your factory? And then load it together?
A: Yes, but you need to declare to the other party.
5)Q: How do you arrange your Spring Festival holiday?
A: During the Spring Festival, our front-line workers will rest for 10 days, so the logistics can work normally.
6)Q: Can your equipment be installed in hot weather?
A: The product can be made suitable for a high temperature environment.
7)Q: Can your product be installed in cold weather?
A: The product can be made suitable for a low temperature environment.
8)Q: Do you have an office in Shanghai or Guangzhou?
A: No, we don't have any offices or branches anywhere.
9)Q: Could you send your staff over to install the equipment for us?
A: Our products belong to accessories, generally do not provide door-to-door service.
10)Q: Can I only buy some spare parts from you?
A: Yes.
11)Q: Will you attend the exhibition?
A: Yes.
12)Q: Can you deliver your equipment to the warehouse in Guangzhou?
A: Yes.
13)Q: How long will it take you to provide us with the design?
A: If the customer wants to customize the product, it can produce the drawing and production in a week.
14)Q: How do you pack equipment?
A: We ship our products in wooden cases.
15)Q: Can you design the equipment according to our size?
A: Yes, we can.
16)Q: How long has your company been making this kind of equipment?
A: It has 19 years.
17)Q: How many employees do you have in your factory?
A: About 40 people.
18)Q: How far is the hotel from your factory?
A: There is 20 minutes.
19)Q: How far is your factory from the airport?
A: About 1 hour.
20)Q: How long does it take to get to your factory from Guangzhou?
A: It takes three hours by plane.
21)Q: Where is your factory?
A: Zhaoyuan, Shandong Province.
22)Q: Do you provide spare parts free of charge?
A: No.
23)Q: Is OEM acceptable?
A: Yes.
24)Q: Do you provide samples? Free or charge?
A: No, we do have to charge for it.
25)Q: What are your payment terms?
A: Pay 50% in advance and the balance before delivery.
26)Q: What's your minimum quantity?
A: One.
27)Q: Are you a trading company or a manufacturer?
A: We are manufacturers.
28)Q: What is your lead time?
A: About 15 days for standard products and about 1 month for customized products.
29)Q: How many production lines are there in your factory?
A: We have 5.
Hot tag:China, External Gear slewing bearing Series Q, manufacturers, suppliers, factory, Wholesale, Customized, Quality, Buy, In Stock, Free Sample, China, Made in China, brands, cheap, discount, price, Price list, quotation, low price, buy discount
China External Gear slewing bearing Series Q suppliers
China External Gear slewing bearing Series Q factory